Hello there,
This message is for everyone attending the festivities at Walt Disney World next weekend, October 1-3. I am excited for so many great events such as the
Be Our Guest Podcast
Treehouse meet,
WDW Radio Walkabout
, WDW Foodie Fest, 5k and half marathon races, Mickey's Not-So-Scary Halloween party, etc etc.
There will be a WHOLE lot of awesome people there that I do not want to miss out on meeting! When we all get together in these big groups, sometimes it is hard to recognize everyone from their avatars and such. In the past when attending Disney tweetups my friends and I have worn the "I'm celebrating button" with our twitter name on it. Below is a pic of the Disneyland button but the Disney World one is similar. Instead of saying Disneyland it has a blank space. These buttons can be found at guest relations at any park and cast members provide Sharpie markers to borrow as well.
My plan is to write my twitter name and then my real name below that. If everyone does that we will all be able to recognize each other easily and be a big happy Disney twitter family! :o)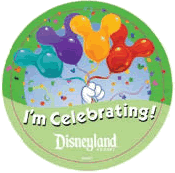 Safe travels to all of you.
It's going to be the BEST. WEEKEND. EVER!